Gable pergola
Gable roof pergolas offer a light and cool environment as they have a higher roof with open ends to allow for airflow. On a Gable pergola, the rafters are cut at angles and meet in the centre of the structure at a ridge. Gable pergolas can mirror the roofline of your home and blend into its architectural style. You can also amend the end types on a gable pergola to give it hip and bay ends to further customise its design. Gable pergolas can be lined with timber or materials that emulate ceilings, they can also have decorative additions to them such as false gables and dutch gables which allow for more space under the roof and give a different appearance to the roofline outside of the structure.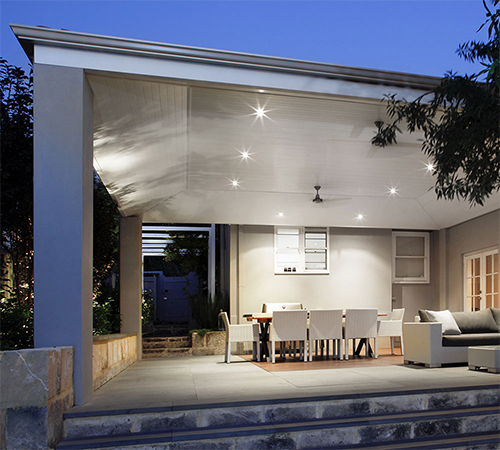 Flat/skillion pergola
Flat/skillion roof pergolas are highly versatile structures that can provide a lot of flexibility. They can be lined with a timber ceiling and feature inbuilt lighting and fans, or they can have different levels or pitches to provide exactly the style and conditions you require. A flat pergola using standard roof sheeting is recommended to have a 5-degree pitch at a minimum so water can remove itself from the top of the structure. If needed there are heavy-duty roof sheets with extremely high profiles that can allow for a lower pitch but generally, these are not recommended on your average backyard pergola.