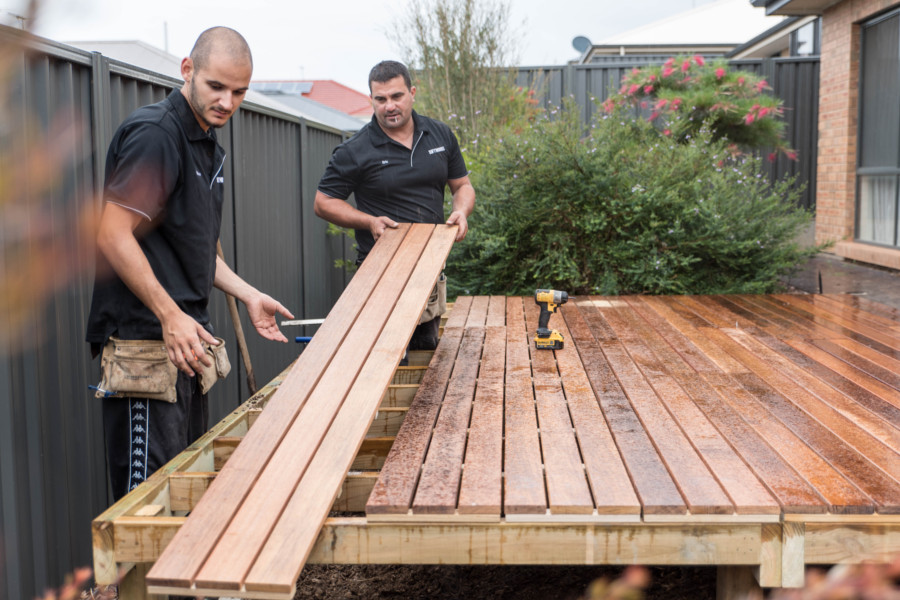 It's incredibly fun and rewarding to build something yourself, which is precisely the appeal of DIY decking. But is it worth the trouble? Or do you just pick up the phone and call in the experts to build your deck for you?
In a Huffington Post article, Make magazine editor-in-chief Mark Frauenfelder lists five reasons why DIY is good for you.
"A deeper connection to the things that keep us alive and well."

Many of the things we depend on and take for granted are part of a complex system that we may no longer totally understand. When we build things ourselves, we plug back into the system and reconnect with it.
"An appreciation for the things you have and the systems that make it possible."

When we build things for ourselves, we somewhat demystify the process, get some understanding of how the world works and gain an appreciation of it. We develop a healthy respect for the process and no longer take it for granted.
"An opportunity to use your hands and your brain."

We get to flex the most important features that differentiate us from other creatures — opposable thumbs and a huge brain. Nothing is as fulfilling and we get a sense of what we can accomplish.
"A connection to other people."

The road to DIY competence is rarely a lonely one, and on your journey you will get the opportunity to meet people who are more than willing to share their knowledge and experience. Bonding with them fulfills the basic human need for social interaction.
"A path to freedom."

The term "freedom" is subjective, of course. It could mean financial freedom if you intend to earn from your craft. But finding fulfillment in creating something of value is in itself a form of freedom.
On the other hand, DIY decking is not without its challenges. Experienced deck builders such as Softwoods have built the skills and amassed the experience to deal with these challenges.
Compliance and liability.

Even before you build your outdoor extension you need to get Council approval. They need to review your plans to ensure that you follow strict building codes and safety guidelines. But chasing Council can be frustrating and time-consuming, especially when you do not know the process.
Costs can skyrocket.

Many contractors can give you a good price on building your deck, patio, pergola and other outdoor extensions because they work with favourable economies of scale and they have developed good relations with materials suppliers.
Unforeseen problems can add to costs.

Professional builders will often provide a warranty on their work for a reasonable period after their work has been completed. If something goes wrong within the warranty period, the contractor is obligated to make the necessary corrections at no additional cost. DIY builders will often shoulder the costs of such corrections.
DIY projects require time.

Naturally, if you take on a DIY decking, your time will be split among attending to your numerous tasks, chores and responsibilities as well as undertaking the construction project itself. This is precisely what you avoid when you hire experts to build your deck.
These are among the many other challenges facing DIY deck builders and that professional deck builders can take off your back. If you think you have enough skills and experience, not to mention patience and mental toughness, to take these on, then perhaps you are ready to get in touch with us at Softwoods so we can get you everything you'll need for your DIY decking project.
But if you sense that even just one of these challenges could be a bit too much for you to handle, then you also have the option of getting in touch with Softwoods and having us take care of all the details for you. You can still have a big say on your deck design by using our online design tool to submit your deck specifications. We'll chase Council approval for you, cut your timber according to your design, include all the necessary accessories and have a modular decking kit sent right to your doorstep, all ready to be assembled with ease.