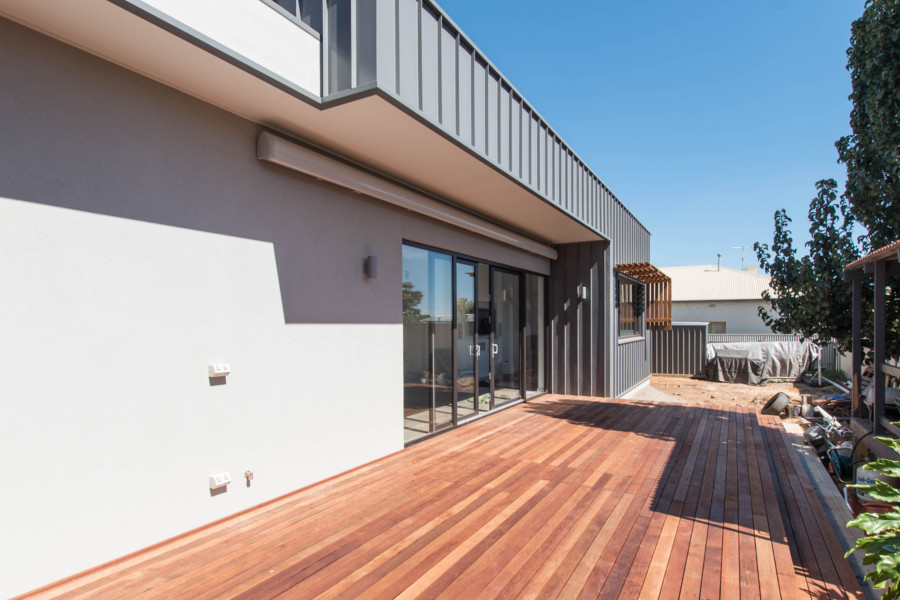 Jambu timber is a viable alternative to Merbau for decking boards and building other outdoor living extensions.
Merbau is one of the most popular and best-selling premium hardwoods when it comes to building outdoor extensions such as decks and pergolas. It is tough and durable while at the same time it also provides a very attractive finish to the structure. But Merbau does suffer from an annoying property: it bleeds. That is, the rich tannins and abundant natural oils that were locked up in the tree tend to leak out after the timber has been processed.
This is a natural process that is no cause for alarm. But the process takes time and if the timber has not been properly and completely bled out it can leave stains on concrete or pavers that are beneath it. This isn't harmful but it certainly can be a nuisance when it happens.
Enter, Jambu. Like Merbau, Jambu timber is imported from certified forest sources in Indonesia. It is darkish gray to brown in colour although sometimes can be pinkish in hue. The grain is often straight and interlocked with a moderately fine and uniform texture.
Jambu is also a versatile timber. It's used in many applications, including exterior and interior joinery, flooring, posts, poles, beams and furniture. It is valued for its natural moderate durability and resistance to termites and fungi. The timber is also easy to resaw, cross-cut and plane, giving a very smooth surface.
As a building material for decks, pergolas and other outdoor living extensions Jambu can be as versatile and attractive and as durable as Merbau but there is one huge difference. Jambu does not suffer from the "bleeding" issue that afflicts Merbau. Tannins, oils and resins do not leach out of the processed Jambu timber like it does with Merbau. And so Jambu users do not have to contend with issue, allowing them to avoid the tedium of the number of washes required to ensure the timber has bled out and enjoy their outdoor extension much sooner.
It should be noted that unless you are installing a merbau deck over pavers or concrete you will likely never see any issues from tannin bleed as it occurs with water runoff and is normally absorbed into the soil under a deck.
It is best that you learn and understand the strengths and weaknesses of both Jambu and Merbau in relation to your decking plans so that you make the best decision when the time comes to select the timber species for the job.
Here's a time lapse video of a tannin bleed test we conducted with Merbau and Jambu decking side by side.