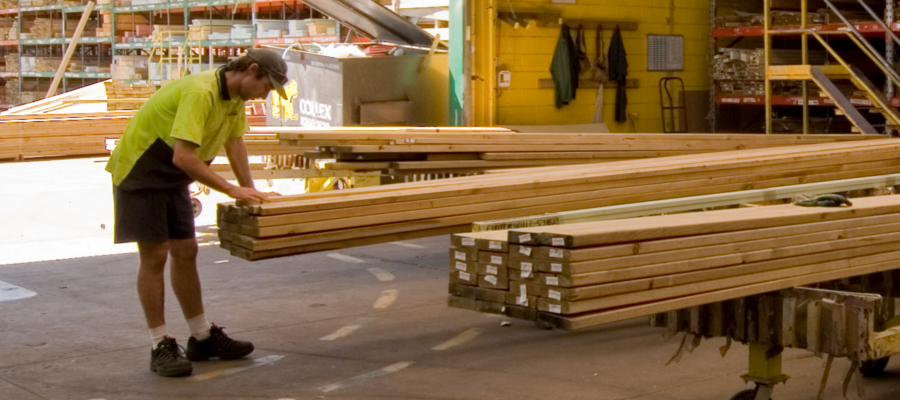 Since the beginning of time, mankind has used timber for building. It's a living breathing product supplied by nature to be used for the benefit of people and the environment.  Many species of timber are a food source to termites and insects. Timber is also naturally at the mercy of rot, and degradation. These are good reasons to use properly treated timber when building to prevent deterioration and ensure a lifetime of protection. In using timber that has been treated it's a good idea to have knowledge of safe working practice to ensure that you don't endanger yourself in any way.
Naturally, all timber dust is hazardous. Sawing and sanding produces dust fibers. Principal routes of exposure are by skin contact, inhalation of machining dust
When using treated pine (CCA copper chrome arsenic treated timber, tanalised timber, termite & Rot proof timber) you should be aware of the following information taken from the material safety data sheets.
Areas of potential exposure to the effects of timber treatment:
SWALLOWED: Overexposure is unlikely in this form and quantity. Considered an unlikely route of entry in commercial/industrial environments.
EYES: The dust is slightly abrasive to the eyes.
SKIN: The material may be mildly discomforting to the skin and is capable of causing skin reactions which may lead to dermatitis.
INHALED: Not normally a hazard due to non-volatile nature of product. Inhalation hazard is increased at higher temperatures.
Principal routes of exposure are by skin contact, inhalation of machining dust and exposure to volatile arsenic compounds when treated timber is burnt. Treated timber for children's playground equipment or for use in log cabins, should before use be: (a) Aged 4 to 6 weeks to "fix" treatment chemicals and thoroughly dry timber; and (b) washed well with water to remove soluble salts. This as recommended by Australian Standard AS 1924.
Treated timber has a long history of safe use with human and stock exposure, provided reasonable occupational hygiene is observed. Treated timber must NOT be used for cooking over open fires, barbecues, spit roasts. Arsenic compounds are released and volatilised by burning and may cause serious food contamination.
Recommendations for avoiding any possible issues with treated timber and safely working with it are then as follows:
Inhalation: Wear a disposable dust mask AS 1715 (1991) class P1 or P2 when machining. Avoid sawing or sanding of timber that is wet (not dry) with treatment chemicals.
Eye protection: When sawing, machining or sanding use safety glasses with side shields. Contact lenses pose a special hazard; soft lenses absorb irritants and all lenses concentrate them.
Hand/Foot protection: Wear safety footwear featuring reinforced toe capping and also be sure to wear impervious gloves at all times.
Make sure that you are working in a clean environment and that you clean up the sawdust you have created once you are done.
If you wish to view the Australian government's national code of practice and guidance note for the safe handling of timber preservatives and treated timber, please click on the link below.
Safe handling of treated timber
In terms of your actual working practices, ensure that you have a safe working environment set up, clear of obstructions and hazards. You should take the time to do a risk assessment on every site before you work. They take a little time to complete, but as with most safety practices awareness of the risks dramatically reduces the possibility or injury or accident. The manual handling document on the link below has a risk assessment checklist that you can follow
National code of practice for manual handling
Further to your risk assessment, ensure that access to the work area is restricted to yourself and any co-workers and that you are suitably attired in high visibility clothing. Any work surfaces such as saw horses or benches must also be stable and flat to ensure you don't have accidents and you must also make sure that cords and obstructions are taken into account.
All machinery should be operated in keeping with manufacturer's instructions and care should always be taken to be aware of such instructions before proceeding with any work. If you are working on a low level deck it is very important to take care of your posture and body as with any lifting or manual handling of timber.
If you are working at heights it is recommended that you take some time to educate yourself on the myriad of issues that can arise. There is a lot to consider including access, scaffolding, fall prevention devices and lots more. All of this information can be found in the safe work Australia guide below:
National code of practice for the prevention of falls in construction
Any accident that occurs working with timber is preventable with a little bit of thought and care. Hopefully this guide is a starting point for you to make sure that you have some information about working with treated timber as well as the sorts of things you need to consider in establishing and maintaining a safe work site.