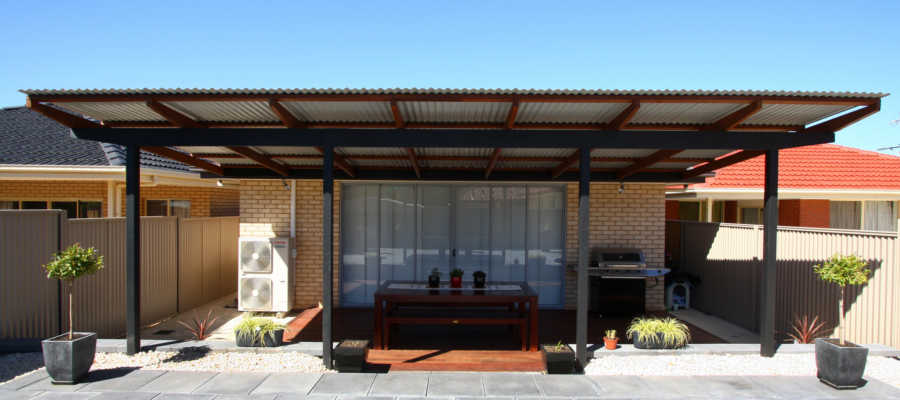 You can classify pergolas according to the roof design they use. Gable pergolas feature roofs with two sloping sides that come together at a ridge. Flat roof pergolas (also referred to as "Skillion" pergolas) have, well, flat roofs that are almost level (we'll explain in a bit why they are almost, but not completely level).
Flat roof pergolas are quite flexible and relatively easy to build. And yet they are very versatile structures that allow a wide range of customisation that let you customize your outdoor extension according to your needs and preferences. Here are a few things to consider when you decide to build a flat roof pergola.
Pitch
We mentioned earlier that flat roofs are almost level. But flat pergolas should slope a little bit to one side so that water slides off instead of collecting on the roof. We call this angle the "pitch" and we recommend at least a 5-degree pitch.
Dealing with Heat
Flat roof pergolas are easier to build than gable-roofed pergolas, but because of their generally lower profile, they can be extremely warm during the summer. There are a couple of ways you can offset the buildup of heat. You can line the structure with a timber ceiling to provide insulation and you can install fans to enhance ventilation.
Another way to protect yourself from excessive heat is to select a suitable roofing material for your pergola. If your pergola is built where it receives full sunlight for most of the day, you can opt for Colorbond® roofing and the abundant shade it provides. Or if you want to let in more natural light but still block out as much heat as possible you can choose Suntuf Solarsmart polycarbonate sheets.
Durability
Besides protecting you from the sun, your flat roof pergola should also be able to withstand the ravages of wind and weather and survive the harshest climate conditions.
Complete System
It's not enough for water to just run off the roof surface. You need to make sure that the water taken off the roof is properly dealt with. Softwoods flat roof pergolas feature an innovative internal gutter system that works in tandem with Colorbond® gutters, caps and flashings to effectively redirect the excess water from the roof without adding to the load of your home's stormwater system.
Design
You don't want your flat roof pergola to look out of place inside your property. You want it to appear to be a natural extension of your house and the rest of your property. You have a wide range of Colorbond® pergola roofs, including double-sided Colorbond® sheets to match your existing roof.
For more information on our Colorbond, Suntuf and other roofing options, check out our Roofing page.
Our previous post, "Choosing Pergola Roofing Materials," is an excellent source of information that can answer your roofing questions. To help you reckon how much material you need to build your pergola flat roof, check out "How to Work Out How Much Roofing Your Need for Your Pergola."
You might also find helpful the post on "How to Install Polycarbonate Roof Sheets" and "How to Work Out How Much Twin Wall Polycarbonate Roofing You Need."
Purchase all your roofing requirements from the Softwoods online roofing store.