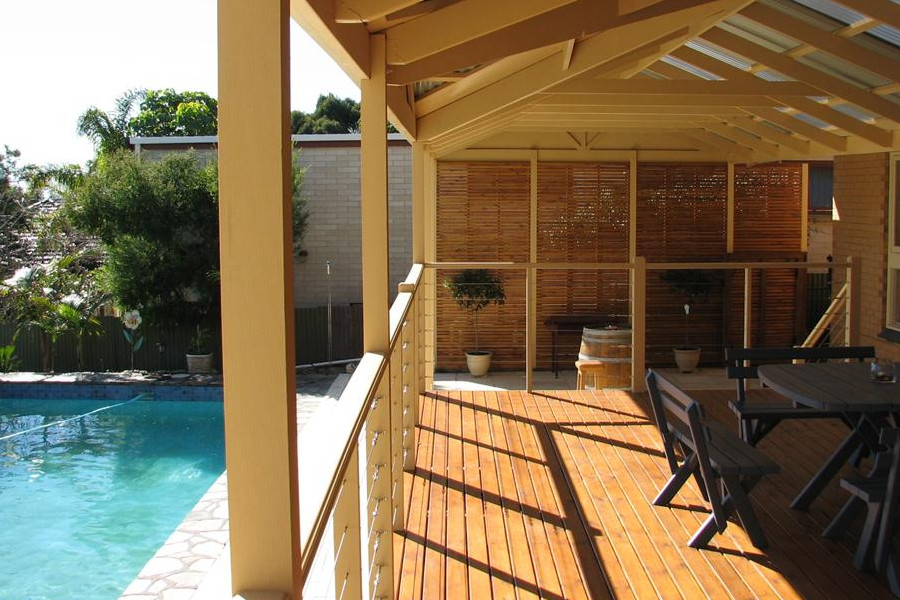 Blackbutt is among our favourite materials for building decks, pergolas and other outdoor living extensions. Here are the reasons we like Blackbutt timber for decking.
Characteristics of Blackbutt Timber
Eucalyptus pilularis, commonly known as Blackbutt, is a timber species that grows along the coastal areas of New South Wales and southern Queensland. These trees stand tall and straight, reaching up to 50 metres in height. Blackbutt timber is quite versatile and highly resistant to fire. The species name, in fact, is because of its reaction to fire. When burned, the tree's buttresses (the butt) turns black.
Advantages of Using Blackbutt Timber
E. pilularis is a native species and can be plantation-grown. It is therefore quite abundant and therefore relatively inexpensive, especially in and around NSW. This significantly impacts the cost of building your deck.

Blackbutt timber is quite durable. When properly treated it will serve you for many many years.

And yet the timber is easy to machine, making it easy for builders to work with. This speeds up the build and lets you complete your decking project much more quickly.

Movement is minimal, an ideal characteristic for decking boards.

The timber is beautiful. Its colour ranges from golden yellow to light brown, although a tinge of pink is not uncommon. The grain is straight and pronounced, giving the structure visual appeal.

As previously mentioned, Blackbutt is highly resistant to fire. If you live in a bushfire-prone area then this is obviously an advantage.
Blackbutt Timber for Decking
Blackbutt's characteristics and the advantages they offer make this species very suitable for building decks. Its inherent durability and stability will give you a deck that stands the test of time and the wear-and-tear of constant use. Fire resistance gives you a measure of security and some peace-of-mind should the threat of a wildfire suddenly become real. Blackbutt's beautiful grain structure assures you of an outdoor living extension that is both beautiful and delightful.