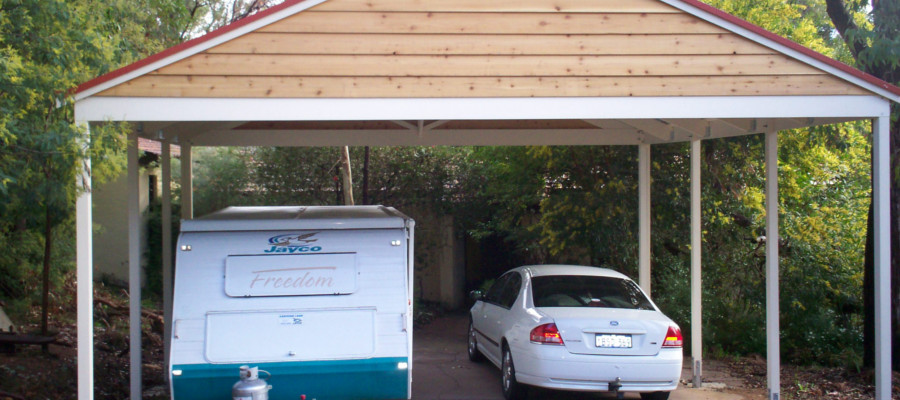 A carport costs less than a full-fledged garage, yet effectively protects your car, machinery and even your boat from the elements. There are five functional elements we can think of to make carports truly useful. Make sure you consider these elements when you plan your carport design.
Location, Location, Location
Where you build your carport matters. You can connect it to your house and be assured of non-stop protection to and from your home during bad weather. But if this is not a concern for you and you prefer more functionality, you can opt to build a standalone structure.
You may consider building a drive-through carport, saving time and the effort of having to back-up. But this is only an option if you have the space on your property.
Size Matters
Your carport can span anywhere from being a small shed that houses your solitary bicycle to accommodating several vehicles — including your boat! There are two questions you need to consider:
What items do you plan to store?

How much space do you have on your property?
Answer these questions and you will be able to determine how large your carport needs to be.
Design Integration
Many homeowners prefer that their carports match the architectural style of the house. This keeps the extension from appearing as an afterthought and helps to keep the property's aesthetic appeal intact.
Flooring
Concrete pavers, gravel, dirt and cobblestone are just a few of the viable flooring options for your carport. Where you have located your carport also plays a big part in the flooring you choose. If you built it (or plan to build it) detached from the house, you may get by with a dirt or gravel floor. But if it is connected to the main house, concrete pavers will make it look better.
Storage Space
Extra storage space can be considered and built into your carport. Storage devices may be positioned along one wall, or an attic may be built within a gabled roof structure. Keep in mind, though, that building such options does add to the overall cost of building the carport.