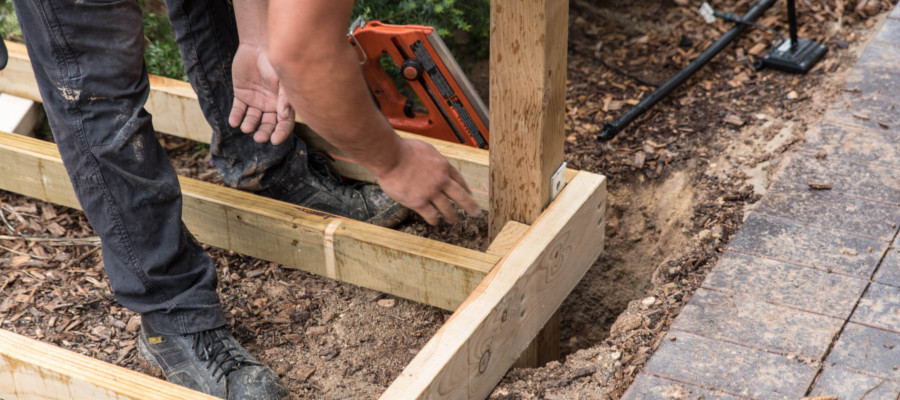 One of the most common tasks for the home improvement DIY enthusiast is to set a post . Whether it's for installing a new clothesline or updating your letterbox, installing a picket fence, decking or pergola, the process is quite similar and easily achievable as a weekend project.
Before You Start…
Post hole digging tools and specialized shovels are ideal to speed up the process so it's best to make sure you have the right equipment before you get started. Another crucial item before you start  is to check that there are no existing underground utilities like plumbing, pipe work or electrical cables in the area where you intend to set up the posts. Avoid making any costly mistakes by hand digging or pothole digging prior.
Digging In
Use stirrups or uprights to support a post out of the ground. This is a great way to ensure post longevity because the post is less likely to rot. If you use the appropriate treated pine posts (H4 type) for a screen or low level deck, it is also okay to place your posts into a hole and backfill with concrete.
If you are setting uprights or stirrups to install a pergola post, or posts to support a roof structure, balcony or raised decks, please refer to the accompanying instructions or manufacturer's notes to ensure that that your concrete mix is appropriate for the size and type of post. The posts may require larger holes; it's important to follow manufacturers specifications.
Finishing Up
Attaching the post shoes on the posts prior to putting the posts into the holes is the best way to get perfect results. Use temporary bracing on either side of the posts and a spirit level and string line help to get your posts 'plum' before pouring and setting concrete. Its also good practice to slope the concrete away from the post, so water can run away and not pool around the post base.
If you like to add some architectural touches to your project, use larger size posts to give your project a solid look. Staining them can give them an expensive look, too. Our new Select range posts provide a very professional appearance. If you wish to cover or clad the timber, you can also use Hardiflex round style columns or blue board to enhance the appearance of your posts.