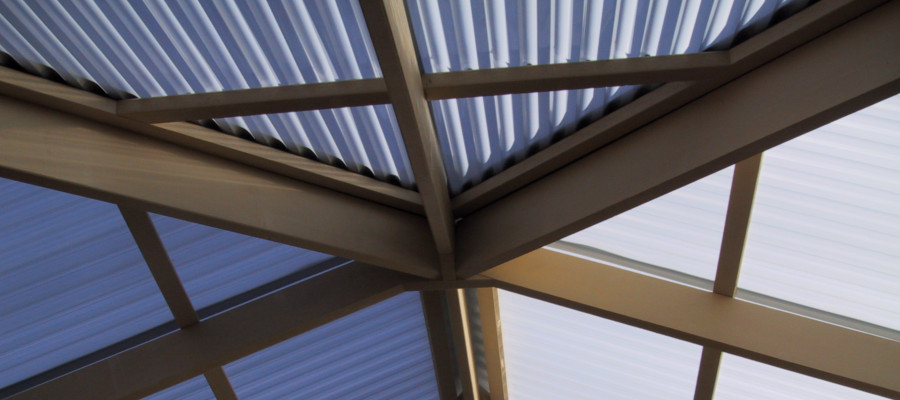 Besides timber for your deck or pergola project, Softwoods also supplies various roofing materials. Whether you are building a brand new pergola or patio, planning to re-roof an existing one or seeking to place a cover over an open structure, you will discover a wealth of options available to you. The key is to choose the correct roofing for your project.
The right roofing lets you fully enjoy your outdoor extension. On the other hand, pick the wrong roofing material and your pergola may end up not as comfortable or as functional as you envisioned. Here are some important questions you need to ask when considering what type of roof to place on your pergola.
How much light do you want to flow into your structure? Do you want your structure to be fully shaded, or do you want some light to flow into the structure?

Do you want protection from excessive ultraviolet (UV) radiation?

Do you want the area to reflect heat, or do you want it to retain warmth?
The answers to these questions will determine the kind of roofing you choose for your structure.
SUNTUF Corrugated Polycarbonate Sheets
If you require some light to stream into your structure, SUNTUF corrugated polycarbonate roofing sheets are what you need. This non-corrosive, lightweight roofing material is surprisingly impact-resistant, virtually unbreakable and highly resistant to both weather and UV. It comes in a wide range of colors and transparency levels that all block up to 99.9% of harmful UV rays.
Because they are highly durable, offer a wide range of profiles and are easy to install, SUNTUF roofing sheets are highly favoured by builders. They are used mainly for roofing and skylights, industrial rooflights, greenhouses, pergolas, home canopies, light roofing and awnings.
To learn more about SUNTUF roofing materials, check out the following resources on the Softwoods website:
In addition, you may find the following blog posts useful:
LASERLITE Polycarbonate Roofing
LASERLITE corrugated roofing sheets feature the following technologies:
Advanced Weatherguard extends the life of the roofing material by as much as 50% and is more resistant to physical damage, such as that caused by hailstones;

Comfort Cool reflects UV rays up to 50% better than standard corrugated polycarbonate sheets and reduces glare to keep you cool and comfy underneath.
COLORBOND Steel Roofing
COLORBOND is a durable and weatherproof roofing option made specifically for Australian conditions. The baked-on powder coated paint finish resists chipping, peeling, cracking and corrosion and can last a lifetime, requiring very little maintenance. You have 22 colours to choose from, allowing you to easily match the roof installed on your house.
Because steel is an excellent conductor, heat may build up underneath a COLORBOND roof. This can be offset by installing a vented ridge system in tandem with a sunroof made of polycarbonate panels or by insulating with Glosswood prefinished lining boards or timber linings underneath the roof.
Find out more about COLORBOND roofing and colour options.
Purchase all your roofing requirements from the Softwoods online roofing store.