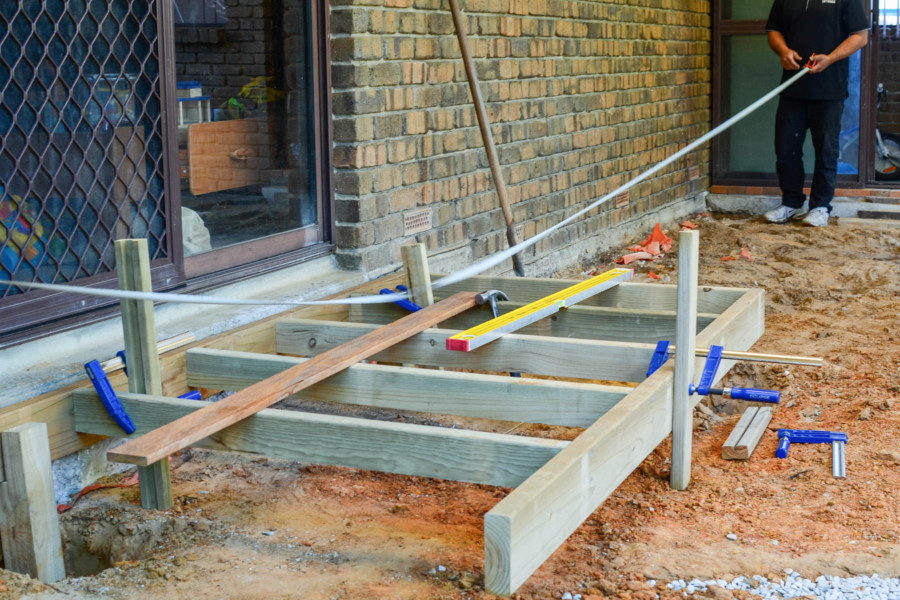 Before you even get started with your outdoor living extension project, there are a few things you need to prepare. These backyard decking preparations will ensure that you complete your project with as few issues and setbacks as possible.
Deck Design and Planning
"Form follows function" is a rock-solid design philosophy and one you would do well to follow. Consider what you want to do on your deck and plan its shape, size and features around these activities. For example, if you are thinking of hosting meals on your deck, make sure there is enough space for a table to fit in, and don't forget to add some additional space for people to walk around those who are seated. Also make room for food preparation and think about where to put the sink, stove and barbie, if these are part of your deck plans. If you still have more space available, designate a zone where you can park a lounge chair or two.
Then test your design by staking out the layout on the actual site and using strings to mark the dimensions of your deck. Try placing some furniture in the designated areas and get a feel for how the actual deck will be once it has been constructed. Can you identify problem areas and potential issues? Now would be a good time to resolve these potential problems and prevent them from obstructing the actual build.
Check out some of our earlier deck design guides:
"DESIGNING YOUR PATIO DECK OR PERGOLA FOR OUTDOOR ENTERTAINMENT"
"DIY DECK CONSIDERATIONS"
"5 REASONS TO BUILD A DECK"
Know Your Timber
Now that you have a clear picture of what you want your deck to accomplish and look like, it's time to select what to build it out of. There are several species of timber you can use, and each one has its strengths and weaknesses. The idea is to select the timber that best suits your decking needs so you need to know what each type of timber can and cannot do for your deck.
It's time to do some research and get yourself up to speed on timber qualities. The best thing to do is to contact us and schedule a sit-down with our experts. They can answer your questions and give you sound advice on the best timber to use for your deck.
You can also review the timber reference pages on our website, or read these previous blog posts:
"HARDEST WEARING DECK VARIETIES"
"WHAT IS THE BEST TIMBER FOR DECKING?"
"HOW TO CHOOSE THE BEST TIMBER FOR YOUR DECKING PROJECT"
"WHAT YOU NEED TO KNOW ABOUT TREATED PINE FOR DECKING"
"WHAT YOU NEED TO KNOW ABOUT JARRAH FOR DECKING"
"WHAT YOU NEED TO KNOW ABOUT SPOTTED GUM FOR DECKING"
"WHAT YOU NEED TO KNOW ABOUT BLACKBUTT FOR DECKING"
"WHAT YOU NEED TO KNOW ABOUT MERBAU FOR DECKING"
Get Council Approval
You may need to have your designs and specifications approved by Council (if your deck is higher than 1m in most instances) There may be some people who advise you that you do not need to do so, but resist the temptation to cut corners. Council needs to make sure that your design falls within parameters of structural and safety standards.
What you do not want to happen is that you skip securing Council approval and end up paying significant fines for the oversight. Softwoods have been in the business for over 30 years and we have come to know the Councils and the required documentation pretty well. We will deal with Council for you – from submitting plans and paperwork to follow up and approval.
Master the Build
The only thing remaining is for you to build the deck. If you plan to do this yourself, then you need to make sure you have the skills and the knowledge necessary to pull this off.
These references may prove helpful:
"HOW TO BUILD A DECK – STEP ONE"
"ESSENTIAL TOOLS FOR BUILDING YOUR DECK OR PERGOLA"
Or you can have Softwoods take care of building your deck from start to finish, based on your original design specifications. This frees you from all the the technical and administrative  concerns and spares you from the headache of having to track all the details.