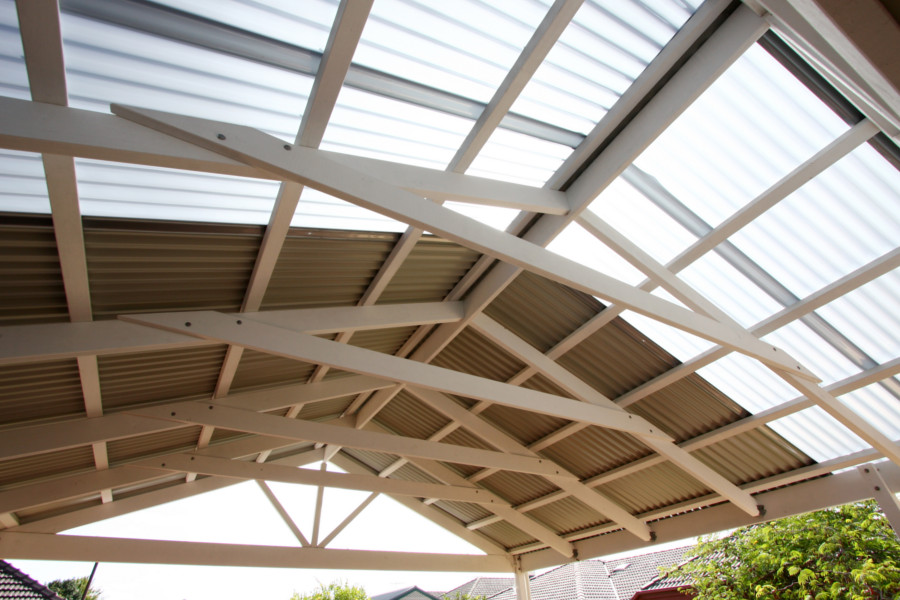 It would seem that roofing is all about uniformity. Most roofs consist of a single type of material spread out across the surface. But this is not the only way to build a roof. You can get more functionality when you combine pergola roofing options in creative ways.
The pergola's main function is to provide shade and that's good especially for us because Australia has one of the highest incidences of skin cancer in the world. But paradoxically, we Australians also love the sun, and just can't get enough of it. Besides, having natural light streaming in also helps decrease our electricity requirements and costs.
So the trick is balancing the levels of sun and shade. Fortunately you can easily control these two elements by combining different types of roofing materials. Metal roofing, such as Colorbond steel roofing sheets, are excellent at blocking out the sun entirely and providing shade. Polycarbonate roofs from Suntuf and Laserlite, on the other hand, are available in various degrees of opacity that allow you to precisely control the amount of light that gets through into your pergola.
Another factor to consider is the orientation of your pergola relative to the sun's path across the sky. Is your structure more or less aligned with the sun's trajectory? Or does your pergola lay perpendicular to it? Your pergola's position in relation to the sun, combined with the right roofing materials can lead to some wonderful results.
For example, if your gable pergola runs east-to-west, install Colorbond roofing on the western side to provide shade during the warm afternoons. On the side facing east, meanwhile, lay out your polycarbonate roofing sheets to let natural sunlight through all throughout the day. This will let you enjoy the benefits of natural lighting but still keep you cool as the day gets warmer through the afternoon.
One thing to keep in mind is that an attached pergola — one that is built right next to the main house — affects the amount of sunlight and heat that flows into the house. The pergola will, of course, block out light and heat that would otherwise have flown directly into the house. If you rely on this natural flow for your home's light and warmth, then you need to factor this in as you work on your pergola roofing design.