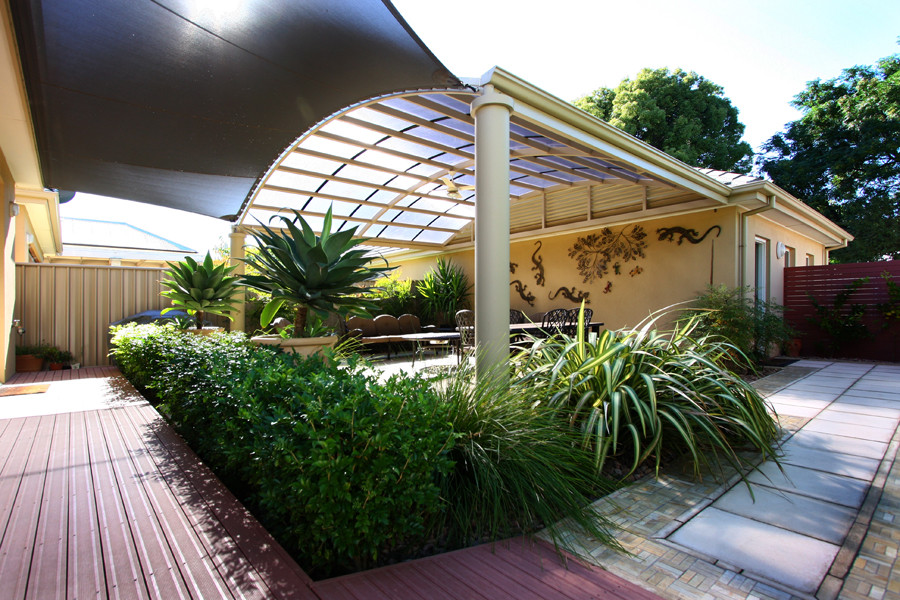 Flat roof (sometimes called "skillion") and gable roof are the most prevalent pergola roofing configurations. But there is a third option, the curved roof pergola design.
Curved Roof Pergola Advantages
Although less common than flat and gable roofs, curved roofs are growing in popularity. No doubt, people are becoming more aware of its advantages.
Functionally, a curved roof gives you a bit more headroom than a flat roof. The extra space comes in handy if you prefer to have a higher ceiling for better ventilation, or if you want to build additional functionality in the extra vertical space.

Structurally, the curved roof requires less overhead than a gable roof. So you get that additional overhead space without the cost and complexity required to support a gable configuration.

Aesthetically, a curved roof gives the structure a distinct appearance. It transcends the plainness of a flat roof, but is not quite as formal as a gable roof. It exudes an informal yet energetic vibe.

Depending on its orientation, a curved roof better resists strong winds and can minimise the build-up and transmission of heat.
The Rise of Polycarbonate
The growing popularity and use of polycarbonate roofing sheets is another significant reason why curved pergola roofing is suddenly easy to do. Polycarbonate is quite pliable and you can curve it quite easily, as long as you stay within its minimum bending radius.
Polycarbonate roof sheets are very durable; they are virtually unbreakable. They let in sunlight but block out harmful ultraviolet rays. So you get maximum natural illumination while minimising the risk of developing skin cancer. They come in assorted styles and colours that add visual appeal to your pergola.
TIP: You can easily order polycarbonate roofing sheets online and take advantage of FREE delivery within any metropolitan area. That's excellent value added to your pergola project.
Curved Roof Pergola Projects
And so now it's time to enjoy curved roof pergola design in action. Here are a trio of pergola projects that we have completed using this roof design.