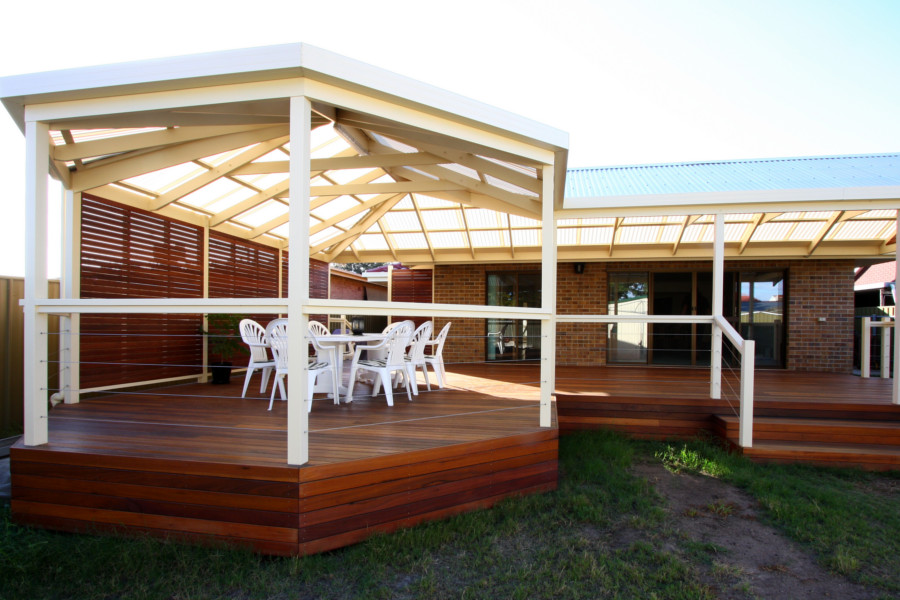 The devil is in them, so to speak, and details often bring together different deck design elements. We'll take a look at how we implemented some of these deck design in a few of the projects we have worked on.
Levels
While most decks will be built flat that is not always the case. Many times the deck will be built on a pitched or uneven surface in order to maximise the available space within a property. In these situations we may split the deck into several levels. This also opens up distinct areas on the deck that you can then define accordingly.
In the following photo, for example (built by longtime friend of Softwoods Russell Wingard) you can see that there are two distinct decks — a covered one that sits atop a raised part of the property and a spacious lower deck. The upper deck has been defined as an outdoor sitting room and hosts a dining set, lounge furniture and lighting so that people can enjoy it even after the sun sets.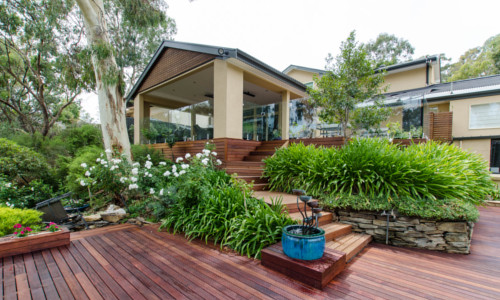 A timber stair cascades down onto the spacious lower deck with its garden and the swimming pool (which is not shown in the picture). And so the deck design gives us two distinct spaces: a comfortable upper deck for quiet moments and a wide open lower deck that welcomes more active and energetic pursuits.
Balusters
Balusters are another deck design element we frequently use. In the example below, we have installed stainless steel cable balusters that run horizontally across the railing. Functionally the balusters serve to delineate the deck area and they also protect people from falling over, especially when the deck is raised a significant distance from the ground. The use of steel cables also provides a sleek and modern look to complement contemporary home designs. At the same time the cables do not obstruct the view from the deck to providing total visual access to the surrounding landscape.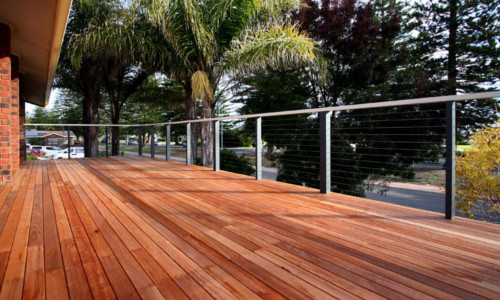 Geometry
By default we tend to think of decks as being rectangular in shape. And while this is mostly true we have had clients ask us to build decks with not-so-standard geometries. Why? Primarily for visual appeal, perhaps. The irregular shape provides a point of interest that contrasts the geometry of the main house. Or it may complement the lines of the main structure and reinforce the design. Regardless of the intention, the irregularly-shaped deck provides a point of interest that is likewise functional.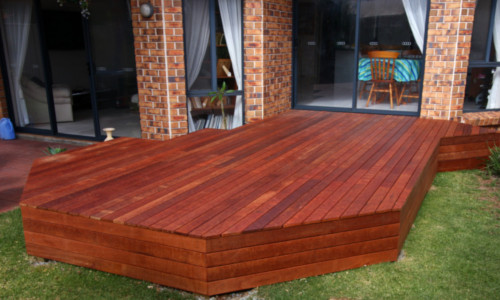 Screens
Timber screens also contribute to decking design. Screens let you set apart and define space within the deck and they also provide a measure of privacy. Placed in front of where neighbors or passersby may have a vantage point from which to view what takes place on your deck, screens protect you from prying eyes.