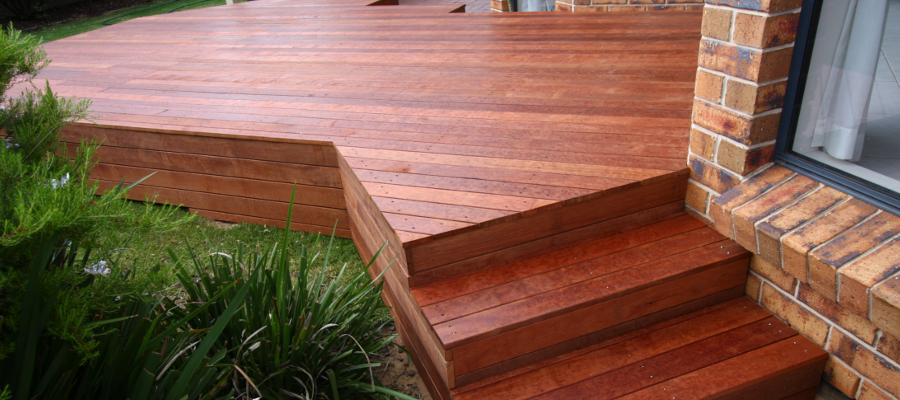 You have just completed your new deck.
Your deck will become an integral part of your home life and provide you with the benefit of hours and hours of enjoyment over the coming years as it provides you with a comfortable and impressive place to enjoy our great climate. At Softwoods we want to help you showcase your deck's beauty and appeal and also enhance its longevity so this document contains some tips on how to do just that.
While there is no better way to protect your deck than covering the area with a Softwoods pergola, you still need to coat the timber with a suitable decking stain or oil. At Softwoods, we use and recommend the Intergrain range of products. Intergrain products have been designed to protect the natural beauty of timber. They are recognized as Australia's high performance, environmentally responsible timber finishes.
CHOOSING THE RIGHT FINISH
A large factor when choosing which product to coat your deck with will be personal preference. While there is no right or wrong preference it is important that you are aware of the pros and cons of each choice available to you and with Intergrain products there are four – Nature's Timber Oil, UltraDeck, NaturalStain and DWD. More information on each of these can be found at https://www.intergrain.com.au/media/37485/intergrain-timber-finishes-guide.pdf.
All Intergrain products are stocked at Softwoods stores with competitive pricing included. We have a large range of samples for you to view and our friendly staff are always available to offer advice based on our extensive knowledge and experience.
We suggest future maintenance requirements should be considered when choosing the right product for your deck. The image below is a simple guide to help in the decision making process and will give you some idea as to how often you may need to recoat your deck compared to other options.


If you prefer to keep the colour and natural look of the timber then the best product is Nature's Timber Oil. However, as you can see from the table above the lifespan is much shorter than other options and you will therefore need to recoat your deck much more often than with other products.
Untinted (natural) Ultradeck is another option for preserving the look of the timber but the UV protectants in Ultradeck may leave a slight yellow/orange tinge to lighter coloured timber. It is advisable to check the samples on display at your nearest Softwoods store before choosing which coating is best for you.
NaturalStain is a semi-transparent high performance stain that transforms the colour of your decking boards without the need for a top coat. It is available in a wide range of colours and has excellent durability.
DWD is an extremely durable timber coating that builds a lightly transparent acrylic layer to protect the decking boards. Unlike decking oils, DWD forms a hard film on the surface rather than soaking into the timber. Tints can be added in a range of colours. DWD requires at least one coat of Dimension 4 primer which ensures DWD will adhere to the timber. At least 3 coats of DWD need to be applied so the application process is more substantial than the other products, however you can expect much better lifespan from DWD.
Take the time to study the available options closely as in some cases you cannot easily change the type of coating after applying it the first time. For example, stain cannot be applied over oil unless the oil is completely stripped out using a combination of sanding and heavy duty cleaning agents.
For a slip resistant surface the UltraGrip additive can be mixed with either of the Intergrain product with the exception of Nature's Timber Oil. UltraGrip must be added to each coat. Care must be taken prior to your first application of an oil or stain with timber species that have high tannin content like merbau. Uncoated timber can leech these tannins if exposed to water and subsequent splashes or run off can stain surrounding porous surfaces like bricks or pavers.
PREPARATION AND PROTECTING YOUR DECK
Most stain/oil suppliers recommend leaving your deck for several weeks to weather prior to applying a finish to it. In our experience this process has a detrimental effect on the timber and significantly increases the aged look and feel of the decking boards as the richness of colour in the timber may fade and it sometimes shows early signs of surface checking and cupping. This effect is most prevalent in areas of your deck that are exposed to the elements. This deterioration is more pronounced in treated pine decking, so much so that we strongly recommend coating treated pine decking boards on all sides with at least one coat prior to installation.
In order to avoid the need to leave the timber to weather, applying Intergrain Reviva will have the desired result of reducing the tannin and oil content of the timber with the aim of achieving the best result when coating the deck. Both of these products also clean the surface of the timber so it is ready to have your preferred finish applied. Care must be taken during this cleaning process to ensure you don't splash the cleaning solution on areas that can easily stain, like paving or concrete. It is recommended that these areas close to your deck be covered prior to commencing. Ensure you follow the instructions on the container, plus never allow the cleaning mixture to dry on the surface before washing it off. Best results are achieved in temperatures under 30°C.
A good way to test whether the timber is ready for coating is to sprinkle a little water on it. If the water beads on the surface then a reapplication of Reviva is required. If the water is absorbed into the timber it is ready to coat with oil or stain.
At this stage you can apply your chosen finish. Once again, best results are achieved in temperatures under 30°C and be sure to closely follow the instructions and recommendations on the container. You will need a brush to get in between the decking boards to coat the sides but the top sections can be done with a suitable applicator or by brush. The timber will absorb a lot of the first coat so your usage will be higher than it will be for further coats and it is best to try to apply the coating based on the manufacturer's recommended coverage. For Intergrain products the recommendations are:
Nature's Timber Oil 6-10 m² per litre
UltraDeck 10-14 m² per litre
NaturalStain 6-12 m² per litre
DWD 12-14 m² per litre
Follow the recommendations on the can when applying second and subsequent coats, and leave the deck for at least 24 hours before walking on it (longer in winter or if the oil or stain feels tacky to touch)
CARING FOR YOUR DECK AND ONGOING MAINTENANCE
Your deck must be kept clean and well maintained to keep it looking its best and to prolong its life. Regular sweeping with a soft fibre broom will remove dust and leaves and washing your deck down with water will help to lift dirt. Avoid using detergents as they may leave your deck looking dull.
Other tips include using floor mats at entry points to your deck to help remove dirt and grit from shoes, remove pools of water to avoid water staining (particularly overflow from watering pot plants) and applying protective pads underneath furniture to minimize surface scratching.
Regular inspections of the deck should be carried out and loose or damaged boards should be refixed or replaced, loose nails hammered back in and loose screws refixed. Evidence of colour fading or the existence of surface checking (fine cracks) or cupping are signs that your deck needs to be recoated with stain or oil. Areas exposed to the weather will require recoating sooner than covered areas but it is advisable to recoat the whole deck when any part of it shows signs of needing it.
FREQUENCY OF RECOATING
There is plenty of information on offer suggesting how often you should reapply stain or oil to your deck. While these timelines are offered in good faith the reality is that each deck is different and there is no guaranteed time period that works for each deck. Your particular climate, the level of exposure to the elements, amount of use, proximity to pools or sand or dirt, variations in weather patterns, type of decking timber and several other factors are what determines how often your deck should be recoated. This is why we recommend regular inspections of your deck (no more than six months apart and less if your deck is exposed to harsh conditions) and not delaying taking action when the first signs of a required recoat are evident.
SIGNS YOUR DECK IS READY FOR A RECOAT
The most obvious signs that you deck is in need to a new coat of oil or stain are fading colour and surface checking. Fading colour is self-explanatory but surface checking is worth some explanation. Surface checking is fine cracks in the timber that may appear and disappear with changes in the weather and consequential changes in the moisture content of the wood. This is normal in all wood and does not affect the life, structural integrity or serviceability of your deck. Surface checking is different to the timber splitting in that a split appears as cracks on both sides of the board and is not just a gap in the surface.
FINAL NOTE
We trust this guide is informative and will assist you in determining what the best product and process is best for you and your new deck. Again, our staff are available 7 days a week if you have any questions or would like further advice.