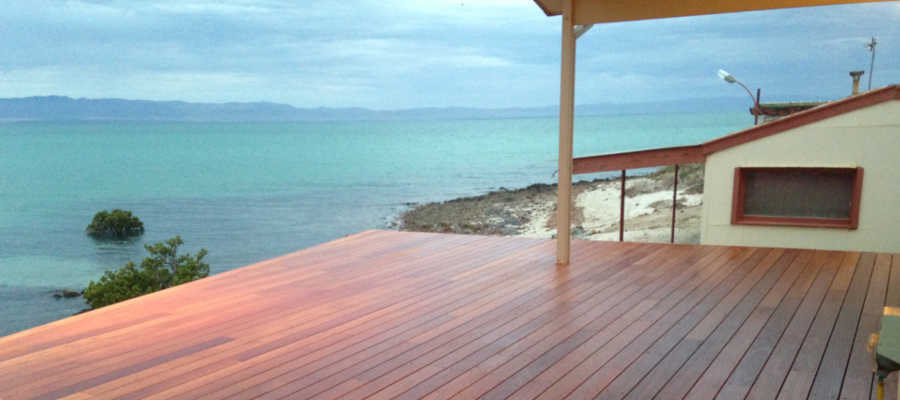 With all the different varieties of decking available, it's often hard to choose the best one for your requirements. There are several popular names you hear about from homeowners, contractors and the press, but you really don't know how the timber will perform for all those years under your feet and what would ultimately look the best.
As a general rule of thumb, care and protection are the keys to prolong the decking's life and keeping it looking good. The density and strength of the timber you choose are also important factors that ensure your deck won't get damaged easily from bearing heavy furniture, the onslaught of pets and children, the ravages of the surrounding environment and other such pressures.
The objective, scientific way to determine the hardness of timber is through its Janka rating. The Janka hardness test measures a sample of wood's resistance to denting and wear. The test itself is simple and straightforward; a steel ball approximately the size of a pea is rammed into the wood. The force needed to embed the ball halfway into the wood is recorded and used to calculate the hardness of the wood. The Janka hardness rating is the hardness level given to each species and is commonly used to determine whether a species is suitable to use as flooring or decking. The higher the number the harder the wood.
With a Janka rating of merely 3.3, treated pine is a fairly soft timber. However it is still a very popular choice of timber for decking in Australia, as it is very affordable. Even though it's cheaper and not quite as tough, it can still last for over 25 years when maintained correctly. Treated pine decking can be oiled, stained or even painted in a range of colours, making it easy to match to your home and the surrounding landscape.
Kapur, with a Janka rating of 5.5, is also a popular decking variety. Merbau, at 6.7, is one of the most widely used for decks and flooring, and we sell a lot of 140mm-wide Merbau decking boards. Australian hardwoods also possess a substantial Janka Rating, but it is always a good idea to talk to one of our representatives for guidance on what timber best suits your decking requirements. Certain bushfire attack levels (BAL Rating) may require your timber to be a specific species, and our staff is able to help you with this.