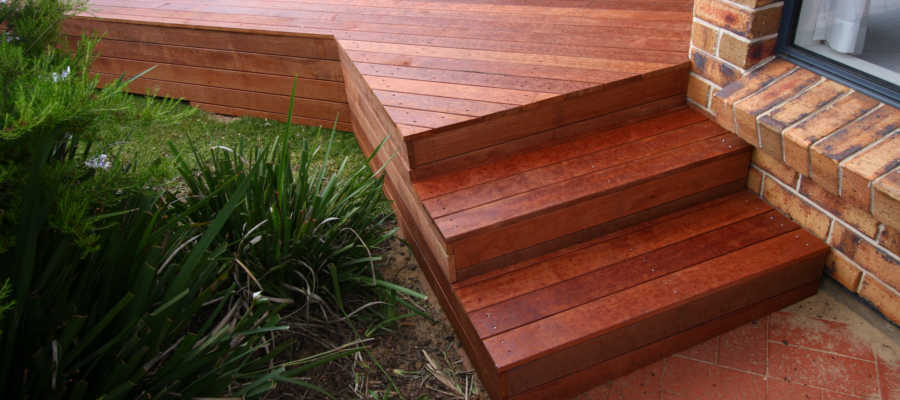 Softwoods sell Merbau timber for decking. We sell a lot of it, in fact, particularly the 140mm-wide decking boards. It is one of the most popular choices for building the lower decks of pergolas and multi-level decks primarily because it is extremely durable.
Advantages
First, let's take a look at the desirable qualities of Merbau.
It's relatively

fire resistant

and that's an advantage especially in areas that are prone to bushfires. Merbau is one of the few species that have been tested to be naturally fire retardant even without subjecting it to fire retardant treatments.
It is by far the best performing decking timber we have found for low level decks. Merbau performs exceptionally well where other decking timbers are prone to movement and cupping when installed at low levels.
It resists

rot and insect attacks

fairly well. Merbau is quite dense, and so wood borers and other insects that normally feast on timber have a hard time penetrating into the wood.
Merbau

looks really nice

. It is yellowish-brown when initially cut and then deepens to a reddish brown as it ages. It also responds nicely to paint and stains.
Because of its durability, it is suitable for outdoor applications.
When moist it is relatively easy to work with; it turns well and cuts clean.
Disadvantages
Mebau, however, is not without its disadvantages:
It is rich in yellow mineral deposits and tannins that may ooze out and stain other materials especially when first subjected to rain during the weathering process. It produces a unique odor when sawed or sanded, which may cause irritation and sneezing.
Merbau is listed as "vulnerable' by the International Union for Conservation of Nature (IUCN) due to population reduction of over 20% in the past three generations. This decline is caused by the reduction of its natural habitat and heavy exploitation. We should note here that Softwoods import our Merbau from suppliers who meet the very stringent guidelines of the Australian Forestry Standard Ltd (AFS Ltd).
It's one of the more expensive decking timbers on the market..
It is prone to fungal infection especially when used in constantly damp environments.
Considerations for Lower Deck Timber
The timber used to build lower decks — decks that are less than 400mm from, or on the ground —  need to have adequate ventilation and provide surface drainage. Decking boards for lower decks need to be Above Ground Durability Class 1 or H3 preservative treated softwood.
Softwoods Merbau is a DAR decking board (dressed all around). It has a density rating of 850, a toughness rating of M and a durability class of 2. As such it falls within the above specifications for lower deck timber and is indeed a suitable material for building this component.
To learn more about using Merbau for your decking, read our previous post, "What You Need to Know About Merbau for Decking".