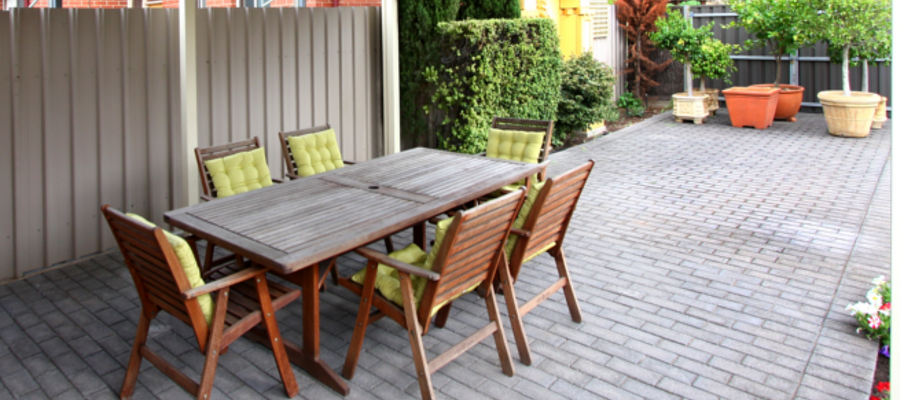 Comfort, function and visual appeal — these are what furniture brings to any living space. Obviously, choosing the right furniture helps define the look, features and functionality of your outdoor extension. Here are a few tips to help you select the right outdoor furniture for your deck or pergola.
Space
You must first consider the space available in your outdoor structure. The type and number of furniture you buy will naturally depend on the amount of space you have to place them in. It makes no sense to plan for a 5-piece sectional sofa when all you have is a few square metres of space to play with.
Fabric and Materials
Chances are, furniture for your outdoor extension will be subject to the elements, so they must be made of materials that can withstand extremes of sun, wind and rain, and sometimes hail, snow and even water from your swimming pool. Furniture may be made from virtually anything, but the four main materials used are:
Plastic – Plastic furniture is often inexpensive and durable. But it may not be the most attractive.
Wood – For a more natural, casual look, there are a variety of woods available in the market. Hardwoods like teak and redwood may last up to half a century. Softwoods such as cedar and pine, on the other hand, may not be as durable as hardwoods, but they will give you years of service when properly treated using special oils and sealants.
Wicker – Wicker gives furniture a rustic look. It can be natural, made from cane, rattan or bamboo, or it can be synthetic. Wicker furniture are preferred because they are light yet very durable. However, they tend to take up space and natural wicker furniture tends to be costly.
Metal – Wrought iron is very durable, does not tip over easily and looks good in formal settings. It won't tip over when the wind blows and it can withstand almost any weather condition. However, it can be quite heavy and once you have set your wrought iron furniture it will require a lot more effort if you need to rearrange it. Wrought iron is also prone to weathering and rust. Aluminium, on the other hand, does not rust and is lighter and easier to move. Aluminium furniture is also very strong and can be easily cleaned using soap and water. But high end pieces tend to be pricey.
Cushions are almost expected to accompany furniture, as they provide instant comfort (see the section on "Comfort" below). And they, too, must be impervious to the elements, especially water. However, 100% waterproof cushions are quite expensive. More affordable outdoor cushions are available, but you will need to stow them somewhere safe and dry when the rains come.
Design
Visual appeal matters; it adds to how comfortable and attractive people perceive your outdoor living space to be. While generic, nondescript furniture may provide functionality and even comfort, they may not contribute to and even detract from the property's perceived value. Design may also mean adherence to the overall theme or visual pattern.
Regardless of your personal design philosophy or approach, it is important that you find furniture that corresponds to the general design you plan to implement.
Comfort
Last, though not least, is comfort. The outdoor living space is there to provide fun and relaxation. You will get neither if your furniture does not deliver comfort. Comfort has to do with ensuring physical convenience and well-being, or providing satisfactory living conditions in the space you inhabit. In short, the furniture you eventually choose should make people feel good and feel comfortable enough so that they yearn to spend time there.