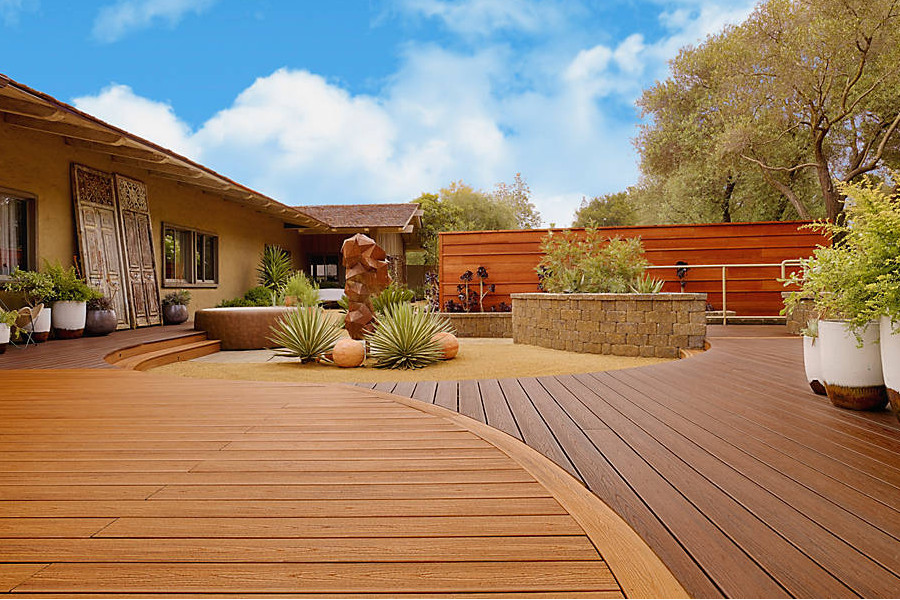 What's the value of an assurance? For a homeowner like you, an ironclad assurance (such as the 25-year warranty Trex offers on its composite decking boards) is the difference between anxious sleepless nights and worry-free confidence that your deck, patio or other outdoor living extension will serve you well for years to come.
Trex is the undisputed market leader when it comes to composite decking products. In fact, they invented composite decking. Driven by the twin threats of dwindling forest resources and skyrocketing production of plastic waste Trex have developed a product that addresses these environmental concerns. At the same time Trex have zeroed in on the opportunities offered by the growing demand for decks, pergolas, patios and other outdoor extensions.
Trex decking boards are made from 95% recycled materials – half discarded hardwood fibres and the other half recycled plastics. Absolutely no living tree is ever harmed in the production of these composite decking boards! Couple this with a proprietary production process that reclaims and recycles its own waste and by-products and the result is one of the most earth-friendly manufacturers and products in the industry.
The decking boards themselves are a triumph of design and technology. They will not rot, warp or twist the way untreated natural timber tends to do over time. Trex composite decking boards are also resistant to scratches, termites and borers even without staining or oiling. Each board is a capped composite; its surface is coated by a thin transparent resin similar to that of a golf ball. This added layer of protection makes each Trex board extremely durable and able to withstand forces that would normally affect untreated timber boards.
But talk is cheap and it is easy to claim that a product is as good as the manufacturer says it is. Trex back up their promise of worry-free decking with a 25-year warranty against colour fade and stain on decks built for domestic applications. A lot can happen in 25 years. That is a full quarter of a century of accumulated wear-and-tear on your deck. If you built your deck while your kids were very young they'd be adults by the time the warranty expires on your Trex decking. And your kids will probably remark that the deck looks as fresh as the day they first set foot on it!
The 25 year warranty assures you that you are getting a high quality product from a reputable manufacturer that will protect you in the unlikely event that their product does not deliver as promised.