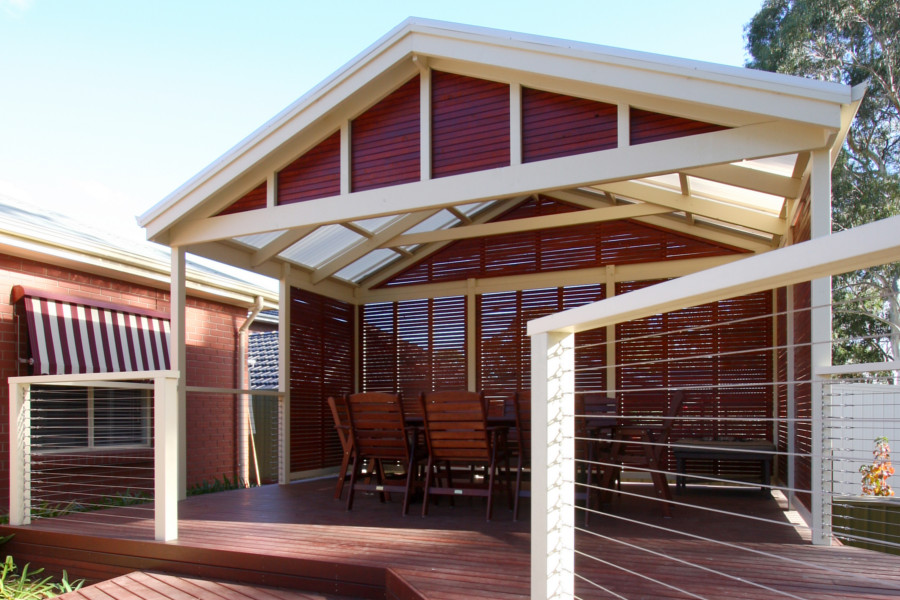 A pergola was originally a garden feature; essentially a shaded walkway or sitting area with vines trained on horizontal beams and lattices sitting atop vertical posts. Today the essence of the Italian pergula (a projecting eave) remains more or less the same, but its functionality has grown as it has evolved into an essential component of outdoor living. Here is our take on the different types of contemporary pergola.
Functions and Benefits
One way to classify pergola is by the functionality and benefits it offers.
The original and overarching function of the pergola is to provide shade. However, you yourself may have experienced that the pergola structure alone does not offer much protection against the full force of the summer sun. You need to add other elements in order to enhance the structure's ability to block sunlight. In the olden days, people would train woody vines around the horizontal beams and lattices atop the structure. The resulting foliage helped provide more shade. These days, we can now lay roofing on top of the structure, or install shadecloth or other coverings for protection.

Pergolas may also be built to enhance the beauty of the property and its surroundings. Trained vines produce attractive flowers and foliage, but even without plants modern pergolas employ a host of design and decorative components that make them attractive.
By Material
Another way you can characterise different types of pergola is by the dominant material used to build them.
Pergola have traditionally been built with timber, and this is what Softwoods specialise in. Timber's warm hues and natural grain enhance any setting and are amazingly durable not to mention an outstanding environmental choice. However, timber pergolas require some maintenance and need to be painted to ensure their longevity.
Metal — such as steel, wrought iron and aluminium — is another popular material for building pergolas. Metal pergolas tend to be more resistant to weather and movement, and require similar levels of maintenance to timber. Metal does tend to be more expensive than timber.
Wood Plastic Composite (WPC) looks like wood but are made out of synthetic plastic polymer. WPC is durable, versatile and highly resistant to moisture and insects. It is light and easy to install, requiring virtually zero maintenance other than regular cleaning. The disadvantage, though, is that WPC will NEVER look as good as timber and it has been known to degrade on cut ends.
By Design
Here at Softwoods, we classify pergolas into two types based on their design:
A gabled pergola has a two-sided roof that forms a peak where the edges of the two sides meet. The triangular space at the end of the roof is the gable.
As the name says, these pergolas have a single flat roof.
Find more information about gable and flat roof pergolas here.
By Structure
Pergolas used to connect two structures together by providing a shaded walkway between them. Or they could have been used to shade and protect a specific area in the garden or courtyard. Modern pergolas continue to honor these functional traditions to this day, which could be used to classify them.
An attached pergola is exactly that: a pergola where one side is connected to the main structure such as a house.

A detached pergola is a free-standing structure located within the garden or backyard.