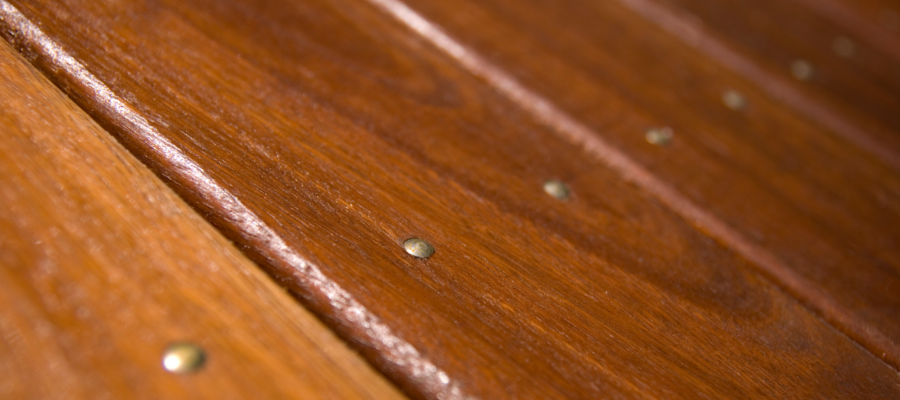 Known for its unique colour range, its strength and its durability, Jarrah is an excellent choice for exterior projects, such as decking. Also known as Swan River Mahogany and Eucalyptus marginata, Jarrah grows in the iron and aluminium-rich soils of the south-western corner of Western Australia.
Jarrah trees can grow up to 40m in height, with an extensive root system that seeks out water and nutrients deep underground. Jarrah does not germinate from seed, but from lignotubers – underground swellings that store nutrients, which allow young trees to regenerate after bushfires.
 Appearance
Jarrah heartwood ranges in colour from a light red or brown, to a darker, richer red or brown. This colouring tends to darken when exposed to sunlight. The sapwood is usually a pale yellow, orange or pinkish colour.
Jarrah timber tends to have a moderately course and even textured grain. Its grain can be interlocked or wavy, which can create an interesting fiddle-back figure. Some boards can contain streaks or gum pockets as a naturally-occurring defect.
 Durability
With a natural resistance to rot, termites and extreme weather conditions, Jarrah is a great choice for decking. Its high density also makes it relatively resistant to fire. We've found that if using wider decking boards for Jarrah, it's best to do so when your deck is covered as there can be some movement with extreme weather.
 Workability
Due to its high density and interlocked grain, Jarrah can be difficult to machine. It's easiest to work with when green, although it can be worked with when seasoned if you are using sufficiently sharp tools (bear in mind it may blunt cutting edges).
Jarrah can be machined or turned. Jarrah timber also accepts oil, stain and polish well.
 Common Uses
Its strength and durability make Jarrah a common choice for heavy engineering projects, as well as structure and infrastructure applications. This includes wharf and bridge construction, railway sleepers, cross arms, poles and piles.
Jarrah is also a popular choice for construction, and is used in general house framing, decking, flooring, linings, joinery and fencing. Due to its striking colouring and attractive grain, it is often used to create turned objects, cabinets, parquetry and outdoor furniture.
 Why use Jarrah in your decking project
Available in a range of beautiful reds and browns, Jarrah is a timber that becomes even more appealing as it ages, as it is exposed to sunlight and its colouring deepens to a richer hue. Choose Jarrah for your decking project if you're looking for an attractive dark coloured decking board with more natural character than other darker decking timbers such as Merbau.
Not only does it look good, Jarrah is also strong and exceptionally durable. It can withstand extreme weather conditions, and is resistant to rot, fungi and insects, such as termites. Due to its density, it is also resistant to fire, which can be beneficial in bushfire prone areas.