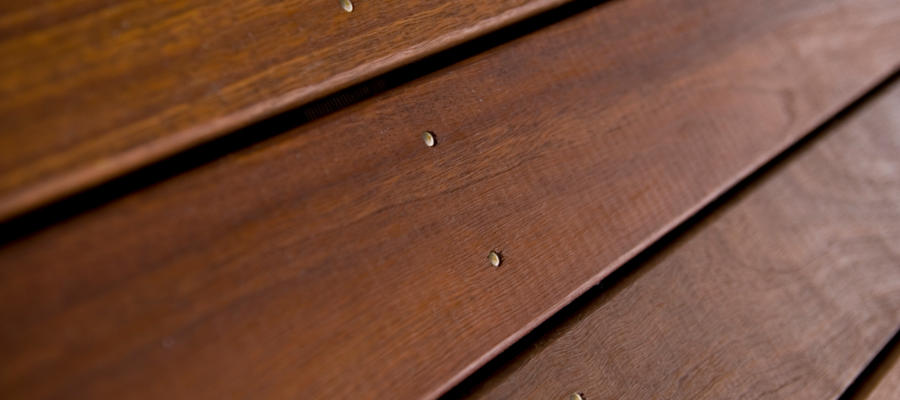 Strong and durable, Spotted Gum is a popular Australian hardwood often used in exterior projects such as decking. It's also commonly used in a variety of structural and internal applications.
Also known as Lemon-scented Gum, Spotted Irongum, Eucalyptus maculata, Corymbia citriodora, Eucalyptus citriodora, Corymbia henryi, and Eucalyptus henryi, Spotted Gum is actually the common name for four species of timber that grow along the east coast of Australia, from the New South Wales/Victoria border to Maryborough in Queensland. It is a very common form of Eucalypt, and one you have likely seen a lot of if you live in Australia.
Spotted Gum trees grow 20m to 45m high and at these heights typically have a trunk of about 1.3m in diameter. They have smooth bark that sheds in places to give the trees their characteristic spotted appearance. Spotted Gum will grow in drier areas and is often found in areas where shale and slate are geographic features.
Spotted Gum is currently the highest volume native hardwood harvested in Queensland. It is primarily plantation grown and there is a plentiful ongoing supply. As decking boards, Spotted gum weighs approximately 1010kg per cubic metre, which gives a good indication of its excellent density. Unseasoned Spotted Gum can expect 0.3%shrinkage when laid, which is a great indicator of its suitability for decking uses as movement and shrinkage are unlikely. In addition, it is naturally termite resistant, as well as very low in tannin compared to other hardwood such as Merbau
Appearance
The colouring of Spotted Gum timber varies according to where it was grown. The heartwood ranges from a pale brown, to dark chocolate brown, to deep red-brown, while the sapwood is white to light brown in colour.
It has a moderately course texture and a typically wavy grain. Many people favour Spotted Gum because of this wavy grain, which can produce an attractive fiddle-back figure. Care needs to be taken in drying Spotted gum for internal applications as the coarse nature of the timber can create surface checking if dried too quickly or too far.
Workability
Spotted Gum, despite its strength and density is a great timber to work with as it has few imperfections and a good level of natural oils which allow easy machining. It accepts oil and stain well, and has a lower tannin content that most other eucalyptus species. This means tannin staining and bleed-through is less of a problem.
While it is excellent for machine work, Spotted Gum is also a good timber for carving and woodturning.
Common Uses
Spotted Gum is often used unseasoned to create house framing, retaining walls, decking, fencing and landscaping. As a seasoned timber, it's used for internal and external flooring, cladding, parquetry, lining and joinery, and to make indoor and outdoor furniture.
It's commonly used to make high-impact tool and implement handles, such as axe handles, as well as polo sticks and diving boards. Spotted Gum is also used in the manufacture of plywood and veneer.
Due to its strength and durability, Spotted Gum is regularly used in heavy engineering, infrastructure and structural projects. It is used in in mining, in shipbuilding, in bridge and wharf construction, and to make agricultural machinery, railway sleepers, cross arms, poles and piles.
Why use Spotted Gum for your decking project ?
There are a number of reasons to choose Spotted Gum for your decking project. First up, Spotted Gum is very hard (Class 1 above ground, Class 2 in-ground contact), durable and strong. This will help you create decking that stands the test of time, that can stand up to the elements.
Spotted Gum is also a very attractive timber, and it varies in its colouring. If you are after a specific look from your spotted gum deck, it's a good idea to check on the stock available as each shipment has differing appearance. It is one of the more distinctive native hardwoods as it has a unique grain and appearance, and it's benefits make it one of the most popular decking species on the market.
It is a timber that is easy to work with, whether it is machine-worked, hand-worked or carved. It also accepts oil, stain and polish with minimal tannin bleed-through and staining.
If you'd like to use Spotted Gum for your decking project, we'd love to hear from you, and have the chance to supply your materials. Either call or email us, use our online decking tool, or have us come to you for a free in home quote, and we will provide you with all you need to build your deck in kit form (plans, layouts, cutting lists, timber, hardware and concrete) Or, we can build it for you!