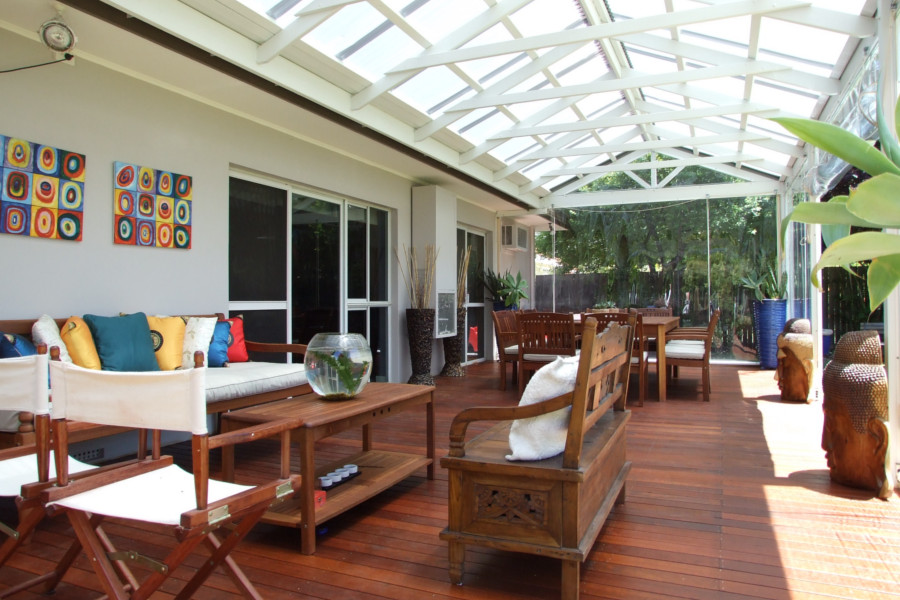 Spending summers on the deck or patio is a national obsession. You might as well dress up your deck to make it a comfortable, pleasant and desirable venue for chilling out during the warm months. Check out these ideas.
Mood Lighting
Lighting plays a big part in establishing the emotional state of people. Imagine a stage play or movie without any care given to how the scenes are lit. You'll end up watching a flat, monotonous set of actions onstage or onscreen. The same holds true for your deck setting. Bright, blinking lights tend to energise, and dim focused lights tend to subdue.
Find more tips on lighting in this previous blog post, "Lighting Up Your Patio, Deck or Pergola."
Colour
If you are the type of person who finds bare space monotonous then you may eventually find your deck, well, monotonous. The solution is to apply colour. There are an infinite number of options you can take. You can paint the decking boards directly according to your colour scheme. And you can add colorful items to the deck that break the deck's natural monotone finish.
Rugs
Rugs have both visual and functional appeal. They can be used to break the monotonous colour pattern of the timber deck (as mentioned in the previous section). They also provide variations in visual and tactile texture that further contribute to making the deck area more interesting. At the same time rugs can create areas where people can lounge around on the deck.
Art
When used with tasteful restraint, art can go a long way in dressing up your deck for the summer. Art is, of course, a complex and subjective topic and much more so selecting and applying art to adorn your personal space to make it appealing. What you consider visually appealing may not appeal at all to other people. But there are universal concepts to designing and defining space with artworks that are simple enough to apply and could make your deck, patio or pergola pop.
HGTV offers these strategies for displaying art. But if you feel you need help with this then you can perhaps solicit the assistance of a friend with the gift for decorating with art, or you can hire the services of a professional designer.
Cushions
Like rugs, cushions make the deck more comfortable while providing spot colour for visual appeal. Just note that because these cushions will be used on the deck, you need to consider material that is weatherproof.