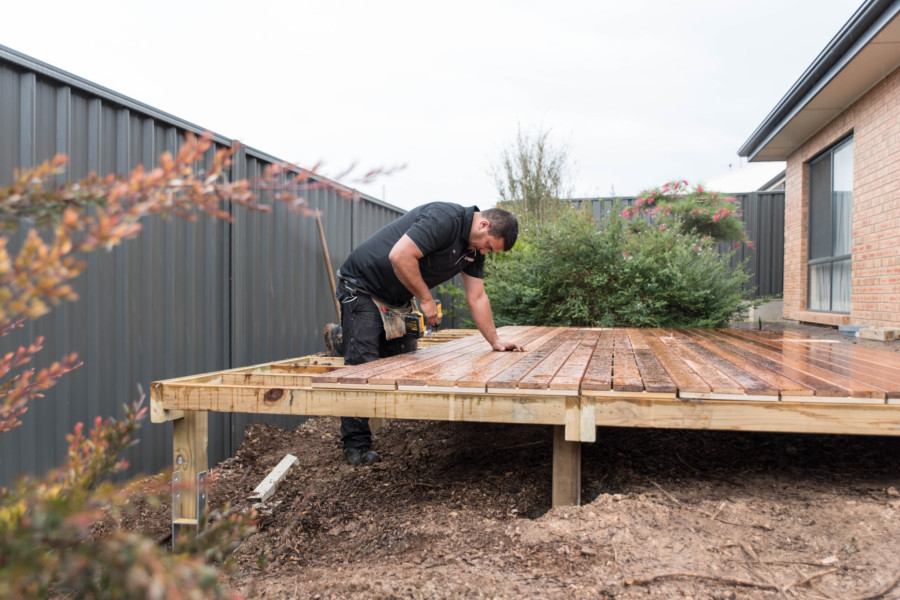 DIY decking kits from Softwoods make it possible for you to extend your living space beyond your house and create the outdoor experience you want.
Summer and Your DIY Decking Kit — Perfect Partners!
Australians just love the sun. And we equally love spending time outdoors. That's why a deck during the summer is like Vegemite on toast. They just go together naturally and beautifully.
Spending time outdoors offers numerous health benefits.
From the sun you get natural vitamin D to maintain your bones and teeth and helps your body fight cancer, diabetes and other diseases.

A quick walk out on your deck can significantly lower your stress level. We all know stress can kill you, so these short de-stressing stints on your deck could help prolong your life.

Medical researchers have discovered that many children who spend too much time indoors develop irreversible eye problems.

You'll have more energy. And being outdoors stimulates you to move even more. And burn calories.

You'll be happier!
Summer Fun On Your Deck
There's no shortage of things you can do on your deck to keep yourself busy or to keep family and friends entertained.
Get a barbecue going. Nothing beats coming together around a hearty barbie. Your deck provides the ultimate setting for a fun get-together with your mates and loved ones.

Play games. Whether you get into a quiet game of chess or start something wild and wacky like a scavenger hunt, the deck is the perfect setting for fun and games.

Release your inner designer. Beautifying the deck gives you another excuse to spend time on it. And it gives the added benefit of ending up with a spot in your home that gives you pride and earns the adulation of guests and incurs the envy of nosy neighbors.

Protect the earth from greenhouse gases. Start a container garden on your deck. This not only fulfills your green thumb but it also serves to beautify your deck naturally. The added bonus is that every plant you plant helps

absorb carbon dioxide and contributes to the initiative against global warming

.
No doubt, you can think of more ways to make your deck a fun-filled place.
The Pleasures of DIY Decking
And then there is the sheer joy of building the deck yourself. Simply put, there is nothing as fulfilling as building something with your own hands. But even if you've never constructed anything yourself, least of all a timber deck you need not fret. Softwoods DIY decking kits are designed to be built even by the greenest newbies. Provided, of course, that they can at least read and follow directions.
Our DIY decking kits allow you to choose the timber species you want, then use our online design tool to submit your design measurements to us via the Web. With absolutely no effort on your part, the timber kit will be packed according to your specs and delivered right to your doorstep along with every single piece of accessory and part you need to build your deck. Simply follow the step-by-step instructions and very soon you will have built the perfect venue for your summer outdoor experiences.